After a period of nearly three and a half years in operation, the ASAP market, currently recognized as the most active and possibly the largest darknet market, has declared its retirement. As per a post discovered on the Dread forum, authored by LeChahal on the 12th of July, users are granted a 15-day window to withdraw their funds, concluding on the 27th of July.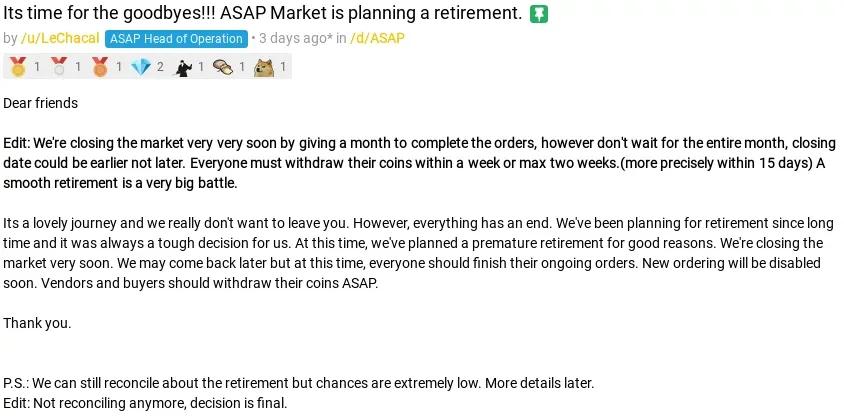 LeChacal conveyed in the ASAP subdread that retirement planning has been a long-standing and arduous decision for them. They further elaborated that they have opted for an early retirement for valid reasons, while acknowledging the possibility of a market resurgence in the future. LeChacal stated that ASAP will continue to operate for a period of 30 days to facilitate the completion of pending orders, thereby enabling buyers and sellers to address any concerns they may have.
Numerous remarks were made in response to the retirement declaration post, lauding the ASAP management for their professionalism. It was observed that exit scams and/or unforeseen closures are commonplace in the darknet market sector, and the majority of users appeared appreciative of the graciousness exhibited by LeChacal. A noteworthy commentator was Paris, the Dread administrator, who expressed that his interaction with ASAP Market was a delightful experience. He further conveyed his personal well-wishes to the management for their retirement.
As per a notice displayed on its homepage yesterday, the market has suspended the placement of new orders. The notice reiterates that BTC and XMR withdrawals will be permitted for a period of 15 days and assures that all disputes will be resolved prior to the market's shutdown. Additionally, the minimum withdrawal amount has been lowered for users with low balances. While existing users can continue to access the market as usual, new registrations have been disabled.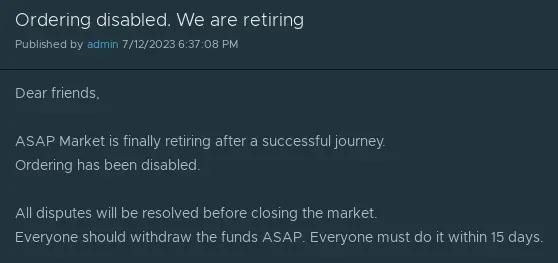 ASAP Market was initially established as ASEAN Market in March 2020 and gradually gained prominence over time. Following the shutdown of the second AlphaBay in February of this year, it assumed the top position among darknet markets. Despite encountering challenges that are typical of successful darknet markets, such as unanticipated downtime, deceitful vendors, and DDOS attacks, ASAP was generally perceived by the DNM community as a proficient and sophisticated enterprise that collaborated closely with its buyers and vendors to rectify issues and deliver a seamless market experience.
It still remains to be seen if ASAP market will return in the near or maybe distant future.