Established in the latter half of 2021, Ares is presently a medium-sized darknet market that appears to have been developed from the ground up, incorporating a distinctive site design that is rather invigorating (owing to its default utilization of a "dark mode" theme). It proudly presents nearly 12,000 listings and purports to have 210 vendors, with an overall membership of 23,600 individuals. It presently maintains 10 market mirrors and features a conventional, exceedingly user-friendly captcha system. The registration process for the market is also quite effortless, necessitating solely the provision of a username and password to commence.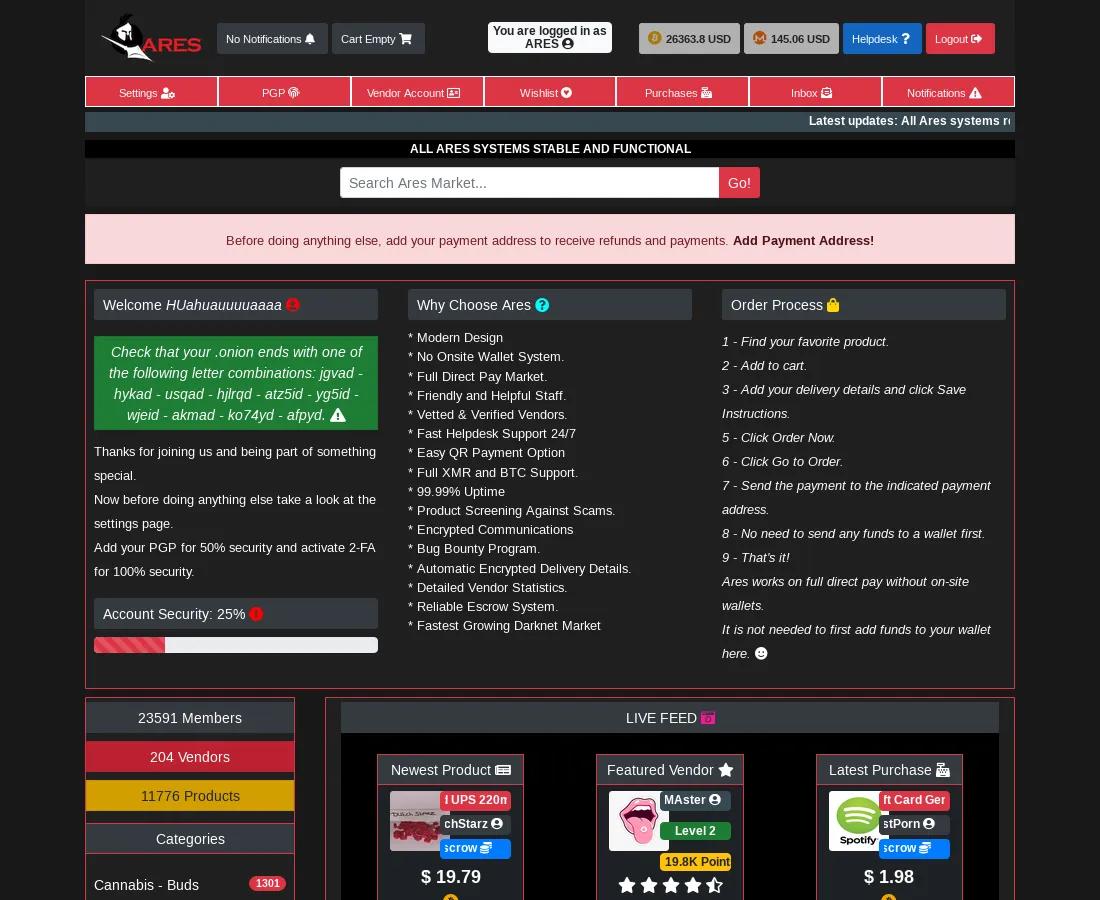 Ares implements stringent and pragmatic regulations in the process of evaluating vendors. The vendors must possess a minimum of two years of prior experience as a vendor on other markets, a positive feedback rate of 95% or higher, and a minimum of 500 completed sales. This is accomplished by cross-referencing each vendor with the database maintained by Recon, the darknet market search engine. This approach effectively filters out undesirable elements from Ares and enhances the likelihood of successful order completion for buyers. Consequently, Ares is a market that prioritizes the interests of buyers, while also acknowledging the presence of Featured Vendors. Additionally, it showcases the most recent purchases and feedback provided by buyers.
Product categories
The Ares marketplace boasts an extensive array of listing categories and subcategories, which are conveniently arranged in alphabetical order on the left panel of the main market page. This feature enhances the browsing experience significantly. Although the market lacks the typical item filters, it still offers the traditional search function. Approximately half of the market's listings comprise the usual digital items such as e-books, guides, and tutorials. However, Ares stands out with its vast selection of drugs, fraud, and digital products, which are further classified into 57 distinct subcategories. As is typical of most darknet markets, the Cannabis-related categories are the most popular on Ares.
Rules of Ares market
If one possesses knowledge of dark web markets, they will find that there are no unusual regulations in place at Ares. The platform prohibits activities such as human trafficking, hitman services, and child pornography, among others. Vendors are expected to adhere to specific guidelines, including presenting clean and well-formatted listings and utilizing original images of their products. It is commendable to observe a market taking measures to enhance the overall user experience.
Moreover, new vendors must meet stringent criteria, such as obtaining a minimum of 95% positive feedback and completing at least 500 sales to qualify for a vendor bond waiver. Recon database is a highly regarded resource within the darknet community, and vendor waiver applications are scrutinized against it.
Search Field and FIlters
Upon logging in, the search bar will be readily visible at the uppermost section of the screen, situated directly beneath the menu bar. It is noteworthy to mention the multitude of essential features integrated within the menu bar, thereby facilitating user navigation.
In order to conduct a more sophisticated search, it is necessary to perform a preliminary basic search. Subsequently, on the results page, you will be presented with the option to apply supplementary filters. These filters enable you to refine your search based on keywords, vendor name (particularly advantageous if you are seeking a specific vendor), product category, and price range. Additionally, you may choose to sort the results according to various criteria, such as the most recent or the oldest items.

Regrettably, it is currently not feasible to filter products based on their country of origin. It is hoped that this functionality will be incorporated in a forthcoming update.
The outcomes are presented in a straightforward grid layout that encompasses all the fundamental details, including the product description, vendor name, shipping details, destination, and accepted cryptocurrencies. One noteworthy attribute is the capacity to add an item to your wishlist, which enables you to effectively bookmark it for future reference. It is remarkable how many markets in this modern era still lack such a feature, making it commendable to observe its presence here.
Conclusions regarding Ares Market
Positives: The platform boasts a visually appealing 'dark mode' layout as its default setting, a convenient product wishlist feature for easy tracking of preferred items, support for Monero, and a notable absence of vendor, userbase, or product inflation. This stands in stark contrast to less scrupulous markets.
Negatives: The advanced search function lacks the ability to filter by country, and there is no option to view feedback specific to individual items. Additionally, the scrolling descriptions featured on many pages may not be to everyone's liking. However, it is acknowledged that this design choice is likely intended to conserve space and maintain a compact layout.