ASAP market is closing down, an annoucement was published on dread, withdrawal is possible until 27th of July.
ASAP Market, boasting almost three and a half years of operation, is a prominent darknet market that offers a vast variety of listings categories. Originally known as ASEAN Market, the market underwent a rebranding shortly after its launch. Notably, ASAP Market has implemented sophisticated systems to detect fraudulent vendors and fabricated reviews, which are among its notable features. The market is also willing to be flexible with vendor bonds, taking into account the potential value that vendors can bring to the platform. Additionally, the ASAP administrators maintain an active presence on the Dread forum, readily engaging with users to address any issues that may arise. While the market may experience occasional sluggishness, it is only marginally more pronounced than the average darknet market.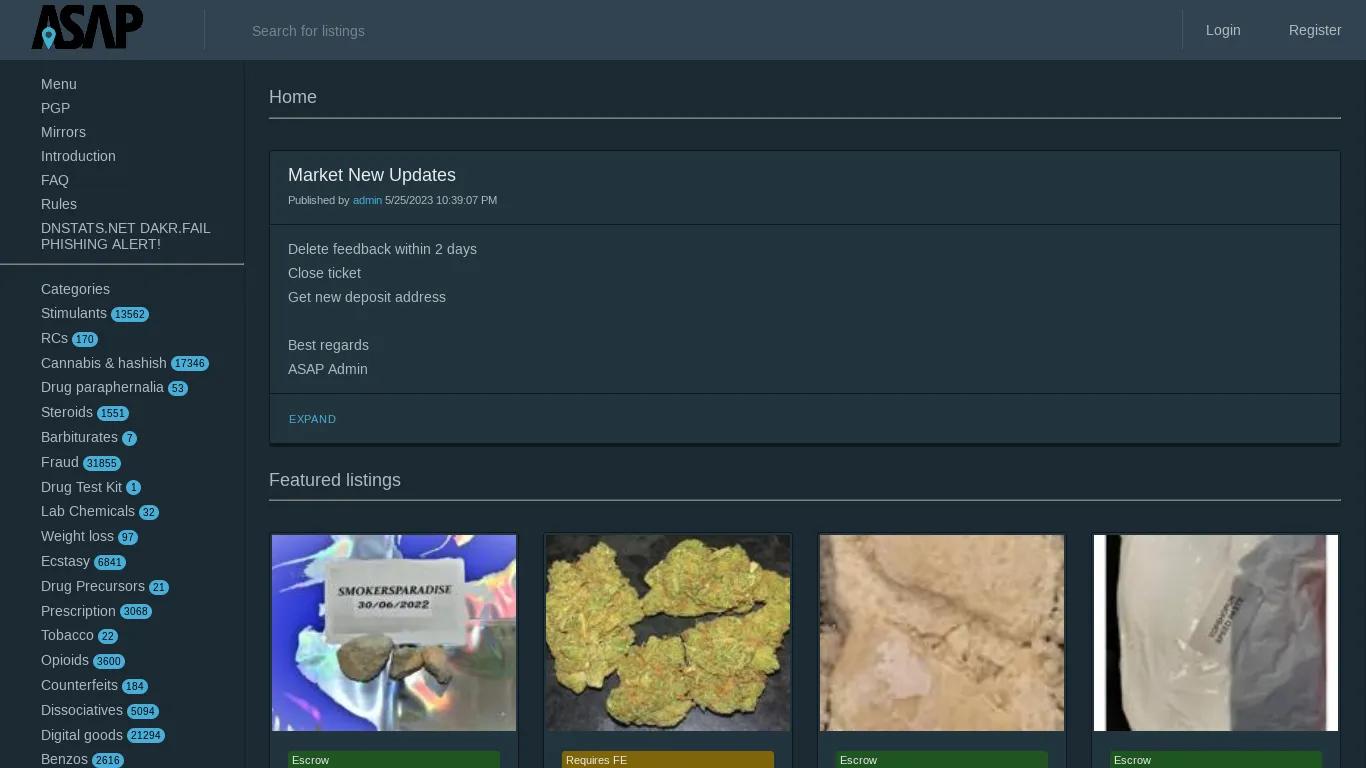 Notable features of ASAP market
Scam Hunter - a backend feature utilized by the market. It possesses the capability to identify fraudulent vendors and buyers. While buyers may easily create new accounts, this feature significantly impedes vendors and consequently reduces their likelihood of scamming users.
Fake Review Detector - a back-end feature that poses a significant challenge for illegitimate vendors. Its primary function is to identify reviews that are fraudulent and intended solely to boost sales.
DeadDrops - undoubtedly the most remarkable of all. They facilitate vendors to dispatch and transport goods while enabling buyers to receive products with the highest degree of anonymity and security. Furthermore, it boasts an integrated map. To validate their DeadDrop transactions, users may employ a "secret phrase" and an "authorization code"! Additionally, the availability of vendors can be ascertained within a 100-mile radius!
What's sold on ASAP market
The listings are categorized into the following classifications: Stimulants, RCs, Cannabis & Hash, Drug Paraphernalia, Steroids, Barbiturates, Fraud, Weight Loss, Ecstasy, Prescription, Opioids, Counterfeits, Dissociatives, Digital Goods, Benzos, and Psychedelics. Among these categories, Digital Goods is the most extensive, followed by Fraud, Cannabis & Hash, and Stimulants. Regrettably, the listing filters do not provide significant assistance in locating an item. However, the search box typically proves to be effective.
Payment methods and wallets
ASAP Market supports Bitcoin (BTC) and Monero (XMR) as payment methods. The market employs the conventional central account wallet system, necessitating users to deposit coins beforehand to cover an order. Upon placing an order, the market retains the funds in escrow until the buyer confirms receipt. Certain vendors are granted FE-only privileges, mandating that all orders placed through them must be Finalize Early orders.
Security
The market provides a 2-factor authentication mechanism through PGP. This feature secures your account by utilizing a PGP key in conjunction with your password. The password alone is rendered ineffective and cannot be utilized to gain access to the account.
Furthermore, a six-digit PIN can be established during the registration process. This PIN is primarily utilized for withdrawals and ensures that even if your 2-FA and password are compromised, your funds remain secure.
ASAP Market's vendor policies
ASAP Market is a multi-administrator marketplace that provides the opportunity for any individual to apply for and acquire a vendor account. The current cost of the account is $400.00. It is important to note that the vendor fee is non-refundable, as it is a fee and not a bond. In addition to this one-time fee, a standard 5% commission per sale is also applicable, which is consistent with other markets in the industry. Unlike most other markets, ASAP Market does not appear to offer a free vendor account for established vendors, with some exceptions. However, it does provide them with a reduced commission on sales.