The Darknet community has been shaken by the sudden disappearance of Test4Pay admin and activist u/Steveirwin. It has been almost three weeks since SteveIrwin went silent, leaving many to speculate on the reasons behind his absence. Rumors of his arrest have been circulating, prompting Dread admin u/Paris to take precautionary measures by removing all of Steve's admin roles. While no concrete evidence has surfaced, the community is left wondering about the fate of SteveIrwin.
Test4Pay: Revolutionizing Darknet Safety
Test4Pay, a harm reduction program operating in the Darknet, has made significant waves by providing crucial insights into drugs sold within the hidden corners of the internet. The program originated in Australia and has gradually expanded its reach into Europe and the United States. Crypto enthusiasts have praised the innovative thinking behind Test4Pay, which aims to create a safer space for Darknet users.
The core idea behind Test4Pay is to incentivize users to test substances purchased from vendors and share the results. By doing so, the program aims to shed light on the contents of these substances, ensuring the safety and well-being of Darknet communities. The tests cover a wide range of substances, and participants earn rewards for their contributions. These rewards include monetary compensation ranging from $10 to $80, depending on the type of test conducted.
The Growing Success and Support for Test4Pay
Test4Pay has garnered substantial support from Darknet users and markets alike. Over the past year, the program has primarily operated in Australia, yielding significant results in identifying vendors who lace drugs and ensuring trustworthy transactions. Donations flooded in, with major markets such as Abacus Market contributing over $7000 within the first few months.
With its success, Test4Pay aimed to expand into markets worldwide, but a sudden halt has occurred. For the past three weeks, u/Steveirwin has ceased all engagement with the community, raising concerns among users. Such an absence is out of character for the admin, leading to speculation about his well-being.
Dread Admin Paris Points to Arrest
Darknet forum Dread admin u/Paris made a surprising move on October 9th, stripping u/Steveirwin of all moderation rights on Test4Pay subdreads. Although uncommon, Paris believed that SteveIrwin may have been arrested, prompting the protective action. In a post on Dread, Paris cited strong reasons to suspect SteveIrwin's arrest and expressed concerns about the accessibility of previously donated funds, which are believed to be controlled by SteveIrwin.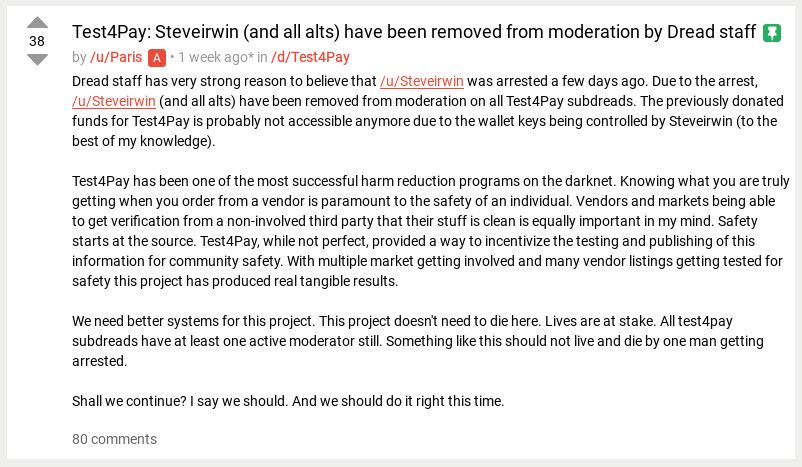 Despite the lack of evidence to substantiate the arrest claims, Paris emphasized the significance of Test4Pay's mission and its contributions to community safety. The removal of Steveirwin from Test4Pay moderation roles and the dedication of remaining active moderators indicates the community's commitment to preserving the project's impact.
Uncertain Future for Test4Pay
The announcement of Steveirwin's disappearance and the potential arrest has left many disappointed. However, there is optimism that Test4Pay will find a way to continue its valuable work. While the present situation remains uncertain, supporters remain hopeful that Steveirwin will return. They speculate different possibilities for his absence, ranging from illness or accidents to a well-deserved holiday.
Test4Pay has the potential to bring about significant positive change within the Darknet community. By incentivizing drug testing and promoting informed decision-making, it encourages responsible behavior among users. The program also benefits vendors, as it motivates them to prioritize product quality and safety, giving them a competitive advantage in the marketplace.
A Promising Future for Darknet Safety
Regardless of the current uncertainties, Test4Pay's importance cannot be overstated. The project signifies a step towards comprehensive harm reduction practices within the Darknet. The ability for users to verify the safety of substances they intend to consume empowers them to make informed choices, while vendors are incentivized to maintain high standards. These factors lead to a safer and more responsible Darknet community.
While Test4Pay faces hurdles, the project has undoubtedly made its mark on Darknet Markets. It is up to the community and its supporters to ensure its continuity and evolution. Whether through potential collaborations or crowdfunded resources, efforts to keep Test4Pay alive serve as a testament to the significant impact it can have on the safety of individuals within the Darknet.