'VICE CITY' HAS EXIT SCAMMED!
Vice City is a moderately sized darknet market that started its operation on May 25, 2020, and has successfully garnered a loyal following of customers and vendors. The market's inception was based on the principle of prioritizing customer service to distinguish itself from other markets that were perceived as being less equitable towards buyers. Although the market less streamlined than other markets, it nevertheless maintains a degree of consistency. Additionally, a reasonable $300 vendor bond serves as an accessible entry point for new vendors.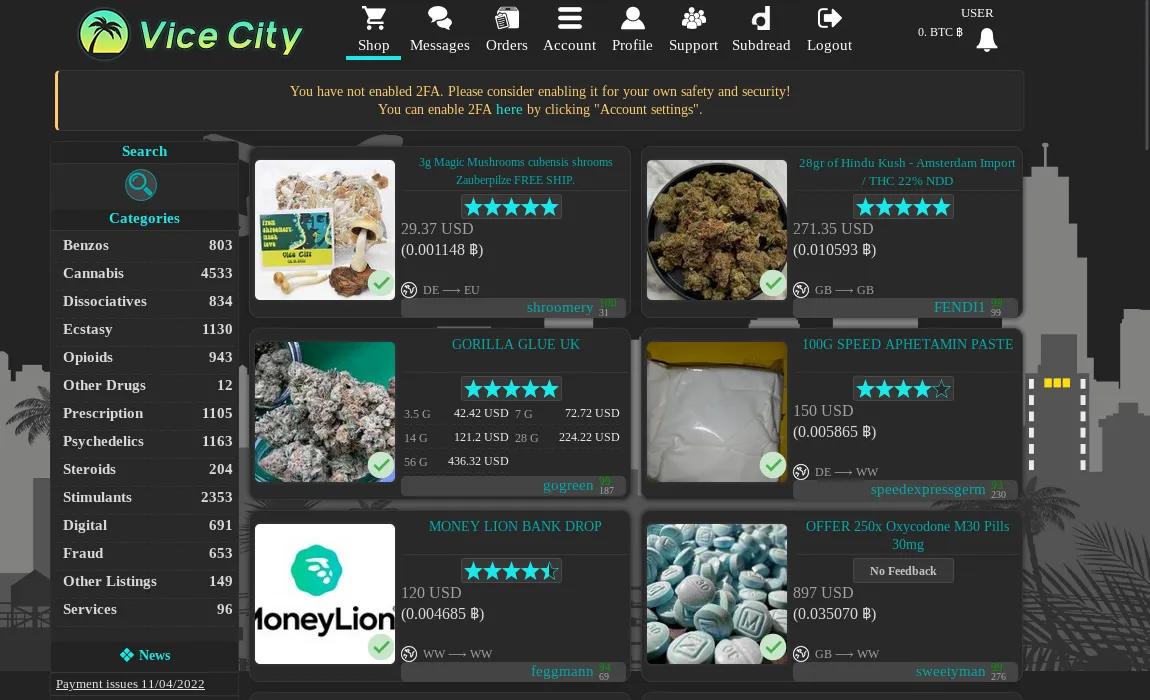 This darknet market pledges to provide both vendors and buyers with an unparalleled user experience. It asserts that the platform's management is designed to gather feedback from customers and vendors alike, in order to create a marketplace that caters to the requirements of every user, irrespective of their position or standing.
Banned items
The prohibition of pornographic merchandise in Vice City was among the initial measures taken to mitigate the issue of clutter. In addition to the customary restrictions, the sale of Fentanyl has also been proscribed. While the market does not boast an extensive inventory, it does feature a reasonable assortment of prevalent drugs and digital commodities. The vendors of the market are geographically dispersed, catering to all regions of the globe.
What's sold on Vice City
At present, Vice City boasts approximately 14,000 listings, with a significant majority of approximately 65% dedicated to drugs and pharmaceuticals. These listings are categorized into various classifications, including but not limited to Benzos, Cannabis, Dissociatives, Ecstasy, Opioids, Prescriptions, Psychedelics, Steroids, Stimulants, Digital, Fraud, and Services. Notably, the most popular categories are Stimulants, with 2353 listings, and Cannabis, with 4533 listings. Furthermore, the majority of categories are further subdivided into subcategories, facilitating the ease of locating specific products. However, it is worth noting that the search utility is very basic and simple.
Payments and wallet system
Vice City is a market that exclusively deals in Bitcoin (BTC) and has, until recently, employed the conventional account wallet system. However, the market has now introduced an additional per-order, payment system which eliminates the need for customers to pre-fund their accounts before placing an order. Instead, a specified amount of BTC is transferred to an address that represents the order and is held until the order is received. At this point, the funds are released by the market to the vendor. It is worth noting that the market seems to be gearing up to support Monero (XMR), although this has not been implemented for more than two years. In addition to the standard Escrow payments, Vice City also offers Multisig(2/3) and FE (finalize early) payment options. However, it is important to note that the latter two options are not available to all vendors.
Conclusion
Vice City is a marketplace that prides itself on its operational security. It boasts several noteworthy features, including 2-FA PGP encryption for secure sign-ins and order placements. Additionally, this platform supports wallet-free transactions, eliminating the need to add funds. The use of escrow with the multisig option also enhances the likelihood of receiving a refund in the event of an unfortunate occurrence.
However, there are certain areas in which Vice City could improve. For example, the site could expand its product selection and solicit feedback from users to enhance its support services. Furthermore, there are technical challenges that require attention. Overall, Vice City is a reliable marketplace that, with further dedication, has the potential to become a prominent player in the industry.