Torzon Market has made a significant impact since its emergence on the darknet scene in September 2022. It has expeditiously garnered the attention of several prominent vendors from various parts of the globe and has already established a robust clientele. The market provides a diverse range of products, including physical commodities such as drugs, which are the most sought-after items, and digital products such as software and guides.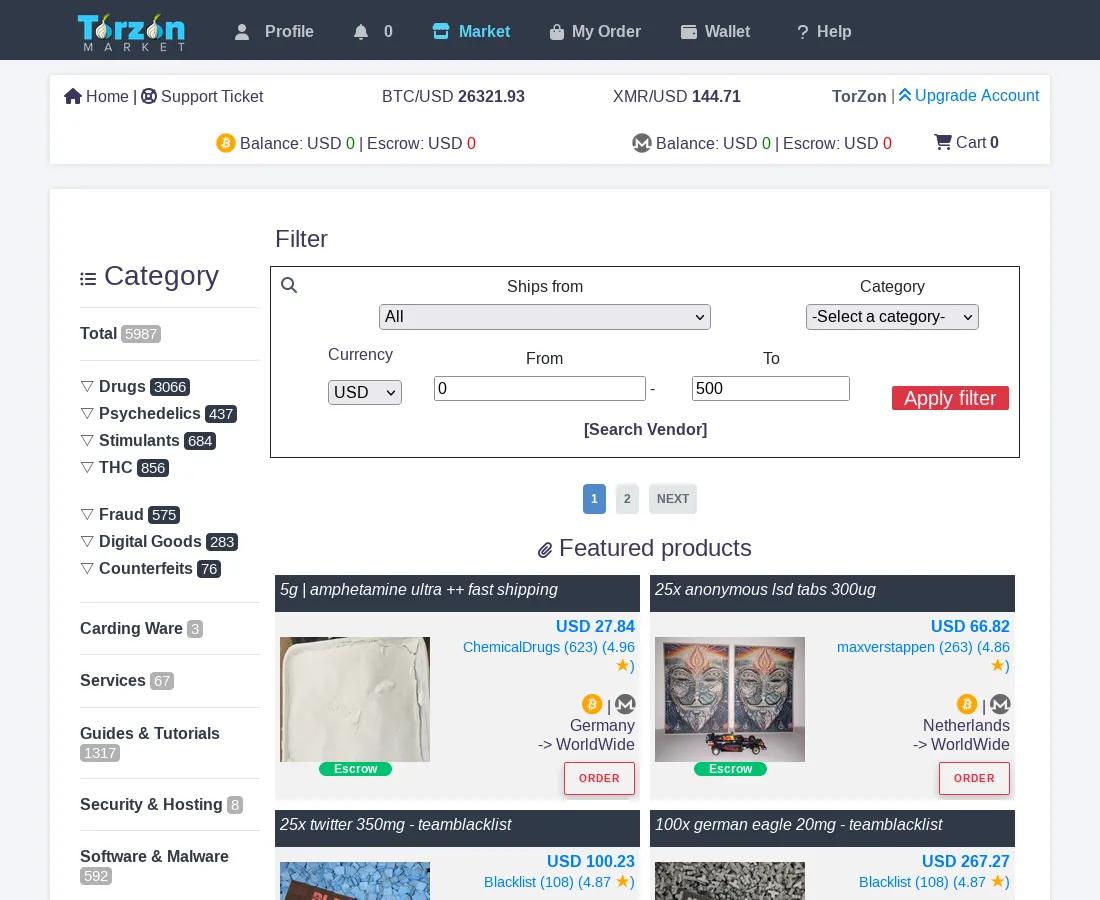 Despite market being only about 9 months old, TorZon imports vendor feedback from other markets, substantiated by PGP proof, thereby endowing buyers with a more comprehensive understanding of the vendor's experience. Notably, TorZon offers a unique premium account feature, which enables users to upgrade their account by paying a nominal fee and receiving exclusive benefits in return. Some of these benefits include access to advanced vendor trust statistics, priority processing of orders, and a private mirror link, which is granted after five successful purchases.
Rules of the market
The engagement in prostitution, distribution of child pornography, and provision of murder services are strictly prohibited. The possession and sale of weapons are also not allowed. Furthermore, conducting transactions outside of the designated marketplaces, including but not limited to Telegram and Signal, is prohibited as a standard measure to prevent fraudulent activities by vendors. These regulations are generaly customary within the realm of most darknet markets.
Selection of products
TorZon currently hosts nearly 6000 listings that are distributed across various main categories, including Drugs, Psychedelics, Stimulants, THC, Fraud, Digital Goods, Counterfeits, Carding Ware, Services, Guides & Tutorials, Services & Hosting, Security & Hosting, and Software & Malware. It is noteworthy that more than two thirds of these listings are related to different types of drugs. Among these, the most popular subcategory is THC, which comprises Cannabis and other cannabis-related products, and currently has 856 listings. It is worth mentioning that the majority of vendors are from the EU, although there are also vendors from the UK, US, and Asia, and some of them offer worldwide shipping.
Conditions for vendors
Prospective vendors may gain entry into the market by remitting a $200 bond, although exemptions are granted to established vendors. All transactions are subject to a 14-day escrow period, with no provision for Finalize Early (FE). While this arrangement is advantageous to buyers, it may discourage some prominent established vendors from participating, as many of them insist on FE. The market's decision to incorporate this feature remains to be seen.
Search function overview
In contrast to the majority of markets, the initial landing page does not feature any highlighted products, categories, or a search box. Instead, it prioritizes news and a list of the top vendors. To commence your search for a desired product, it is necessary to first select the 'Market' option from the header. Subsequently, you may either browse for a product by selecting a category from the left-hand side or refine your search by utilizing the search options menu. This menu allows you to filter by shipping location, category, and price range, or alternatively, search for a vendor by name. While the selection of search filters may not be the most comprehensive, it should suffice for most individuals' needs.
The search results are presented in a grid format, which displays a brief product description, vendor name, price (in the local currency specified in your profile settings), shipping to/from locations, a photo, and a star rating of the vendor/product. This format provides all the necessary information in a well-designed and user-friendly manner.
Unique feature - RaffleSystem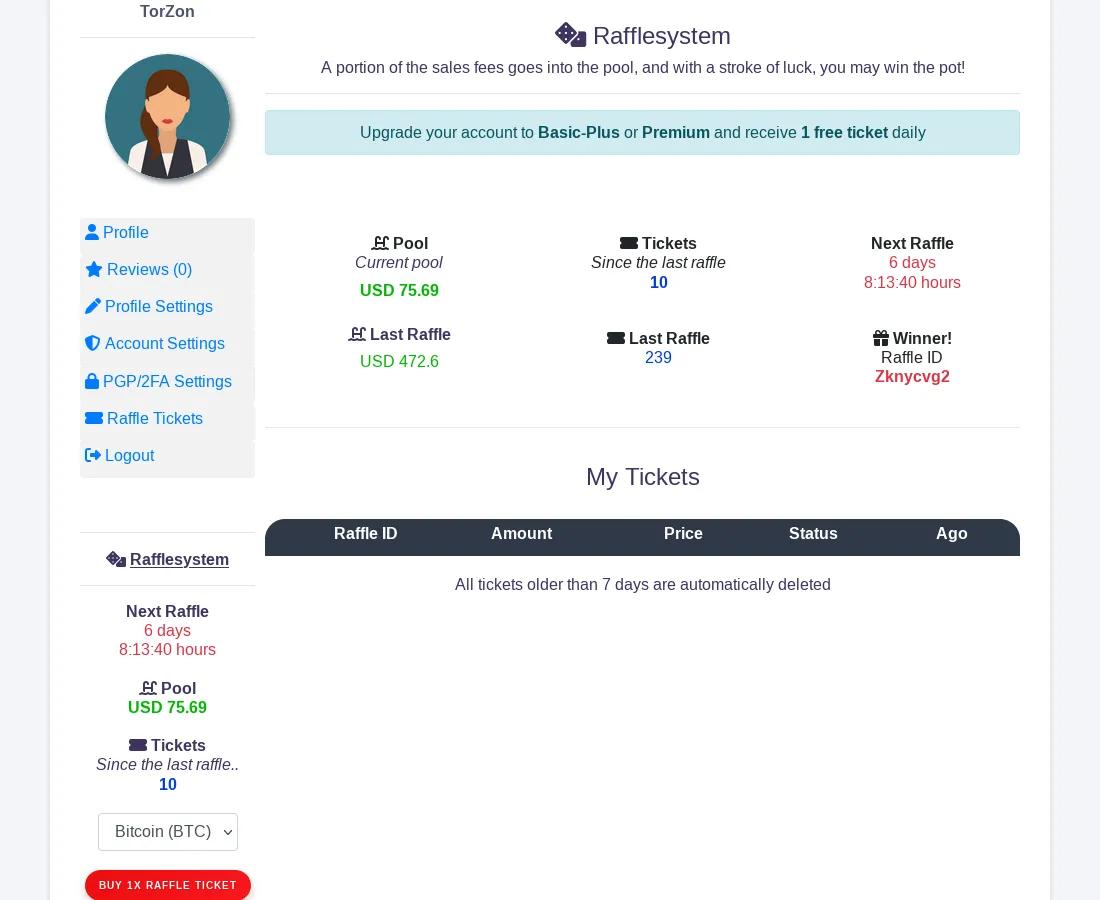 Any potential buyer may partake in the market raffle by procuring a ticket and obtaining the entire pot for a fee of $1.50 per ticket. Additionally, Basic Plus and Premium Users are entitled to one complimentary ticket per diem. The winning pool is amassed from the sale of items, raffle tickets, and remunerated account upgrades, thus presenting the possibility of substantial growth. While Torzon Market is not the inaugural market to provide a raffle/lottery system (Cartel Marketplace previously offered the Pinata raffle), it is among the limited number of markets currently offering this feature.