Nemesis Market, also known as Nemesis Darknet Market, stands out as an innovative market/forum hybrid that incorporates successful features from previous darknet markets. What sets Nemesis apart is its user-friendly interface, eliminating the need for users to create an account just to browse market listings. Catering predominantly to vendors, Nemesis Market offers attractive features. For instance, physical orders benefit from 10-day auto-finalizations, ensuring a seamless transaction process. Moreover, vendors with over 100 positive reviews can enjoy instant FE (Finalize Early) status. To maintain top-quality vendors, Nemesis exclusively accepts sellers with good reviews from other markets. This advantage ensures a secure and reliable purchasing experience for buyers, as it excludes novice vendors.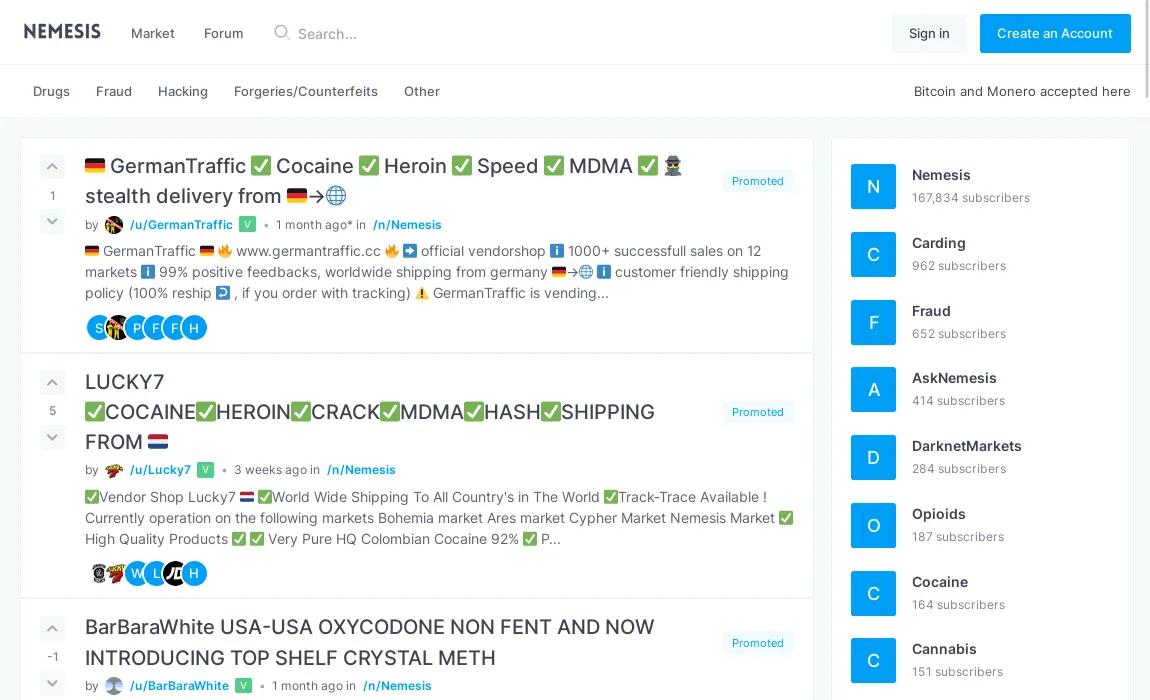 Listings and categories
Nemesis boasts an impressive inventory of nearly 25,000 listings, covering various categories. These include Drugs, Fraud, Hacking, Forgeries/Counterfeits, and Defense/Intelligence. Each category is further divided into smaller subcategories. Among the most popular are Cannabis, Stimulants, and Opiates. However, the largest subcategory, labeled as "Other," encompasses domains such as Fraud and holds customary how-to guides common in darknet markets. Notably, Nemesis presents unique listings for "hacker for hire" services, data dumps, and malware.
Rules of Nemesis market
Compared to numerous other darknet markets, Nemesis imposes comparatively lenient regulations on vendors. It even maintains a subcategory dedicated to fentanyl products, setting it apart from other platforms. Additionally, Nemesis features an extensive range of listings related to hacking and fraud, including malware/botnet listings, exploits, and hacker-for-hire services. While this may attract some users, it is important to exercise caution. The market could become a target for international law enforcement efforts and rival markets. Thus, to ensure safety, encrypt all communications with vendors using PGP.
Handling of transactions and funds
Initially limited to Monero, Nemesis has expanded its cryptocurrency acceptance to Bitcoin. Additionally, the market provides a built-in mixing service, allowing buyers to safeguard their anonymity by severing the link between their funds and vendor transactions. Their Direct Pay mechanism simplifies the process, as funds are directed to an address specific to each order, rather than a centralized wallet system. The market holds the funds until the buyer finalizes the order, after which they are disbursed to the vendor.
Nemesis single URL approach
Nemesis Market possesses a remarkable advantage by employing a single URL, avoiding the common practice among other markets of using multiple mirrors. With Nemesis, users acquire the official URL and require no further searching. The administrators' expertise in combating DDOS attacks ensures the stability of the singular URL, providing convenience and enhanced security for the platform's users.