M00nkey is a darknet market that emerged in the spring of 2023. Though relatively new, it has quickly amassed over 5000 listings as of August 31st, 2023. Approximately half of these listings are related to drugs, with a significant focus on cannabis and other THC products. Despite its recent establishment, M00nkey Market demonstrates a level of quality and features that rival, and in some cases surpass, more established markets. The vibrant and captivating design of the platform sets it apart in several ways.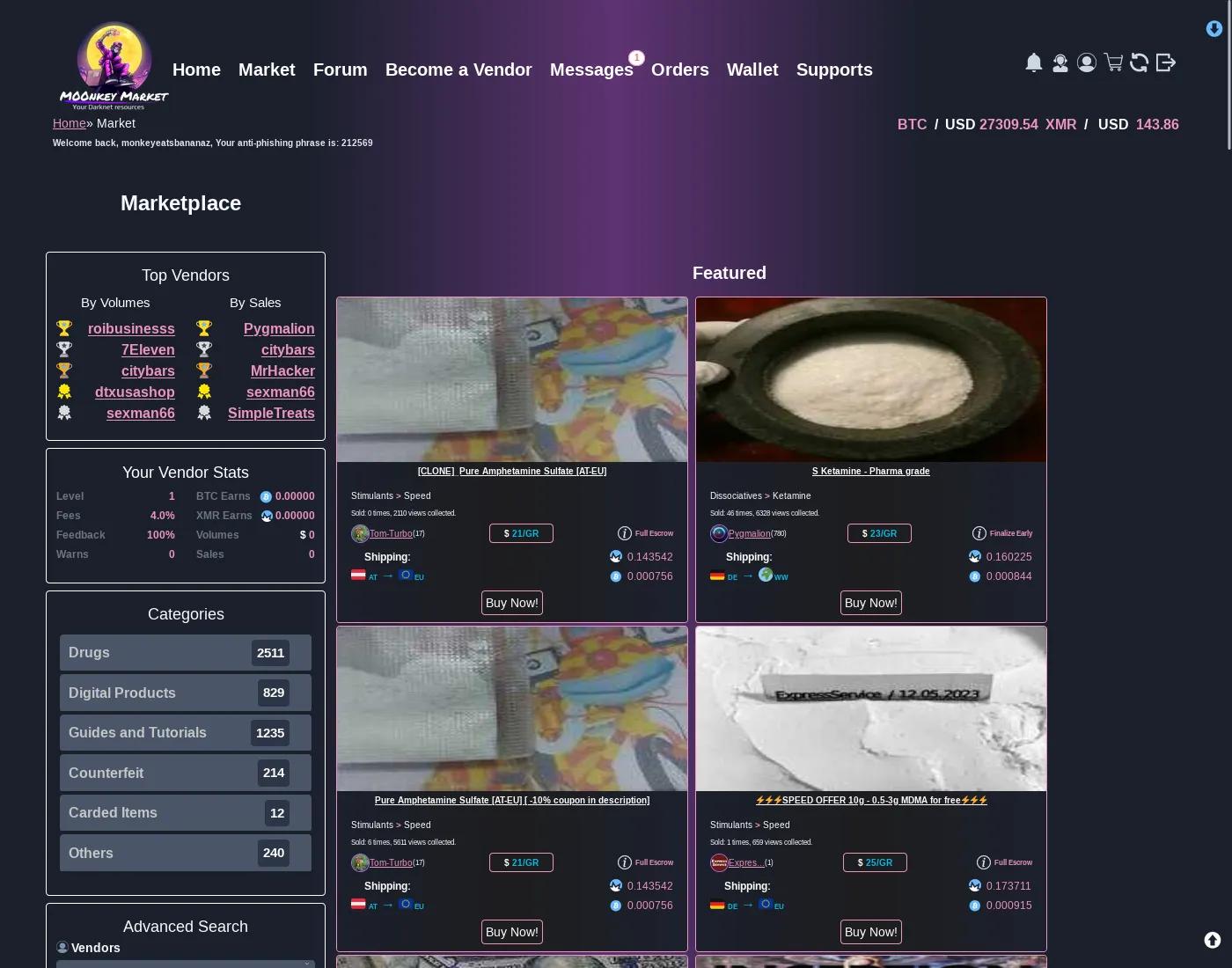 Accepted Currencies and Wallet System
M00nkey Market operates on a traditional wallet-based system. Prior to making a purchase, users need to deposit funds into their market wallet. The market supports both Bitcoin (BTC) and Monero (XMR) as currencies, although individual vendors may have their own preferences. Most vendors found on the platform accept both BTC and XMR, but it is advisable to confirm with a specific vendor before making a deposit. Monero is recommended due to its speed, low transaction fees, and enhanced security. Each listing provides information on the price in Bitcoin or Monero, but considering the volatility of cryptocurrencies, it is wise to send a slightly higher amount to account for fluctuations. Shipping costs, if applicable, should also be factored in. To deposit funds, users need to send them to the wallet address specified in the wallet section of their account. A notification will appear once the deposit is pending (this may take some time to display). Once the deposit receives sufficient confirmations and is credited to the user's account, they can proceed with their purchase. Buyer beware: withdrawals are processed manually, resulting in longer wait times (approximately 4-6 hours on average) for both users and vendors.
BCrypt Messaging Feature
One notable feature that distinguishes M00nkey Market is its implementation of a BCrypt secure messaging system within the messages area. This advanced system encrypts messages using the user's login password as the decryption key. As a result, users must re-enter their login password each time they wish to view a message. While the market memorizes this within each session, this extra layer of security ensures that all messages are fully encrypted within the database. This serves as a safeguard in the unlikely event of a security breach. However, it is still highly recommended to encrypt messages independently using PGP encryption for maximum protection. This feature is particularly valuable as many users may not be proficient in PGP encryption or simply overlook this security measure.
Product listings
Each product listing on M00nkey Market includes multiple photos, a detailed description, the refund policy, shipping options, price, and more. Furthermore, star ratings from previous buyers are displayed, reflecting the quality, delivery, and stealth of products. Users can also leave written comments, providing valuable feedback for potential buyers. The feedback is arranged chronologically, with the most recent reviews appearing at the top, ensuring relevance. Users have the option to add products to their wishlist for future reference, easily accessible under the "Orders" tab. Furthermore, if users want to learn more about a specific vendor before making a purchase, they can simply click on the vendor's name within the listing. This leads to a page displaying feedback across the vendor's entire product range. Notably, some established vendors have imported feedback from other reputable markets like ASAP. This practice is transparently marked as "Imported Feedback," distinguishing it from attempts by certain untrustworthy markets to artificially inflate their reputation. Users can also add vendors to their favorites list, making it more convenient to find them without having to conduct a full search.