Kingdom Market is a well-established darknet market that has been in operation since April 2021. Kingdom market is also listed on Dread, the foremost forum for markets on the dark web. The market boasts a unique site design that sets it apart from its competitors, while remaining user-friendly and intuitive. Notably, it does not offer certain preferred features, such as per order (direct pay) purchases, a multisig option for BTC payments, and forced PGP encryption for communications. However, it compensates for these omissions by providing enhanced security and user safety features, which help to safeguard users against phishing attempts.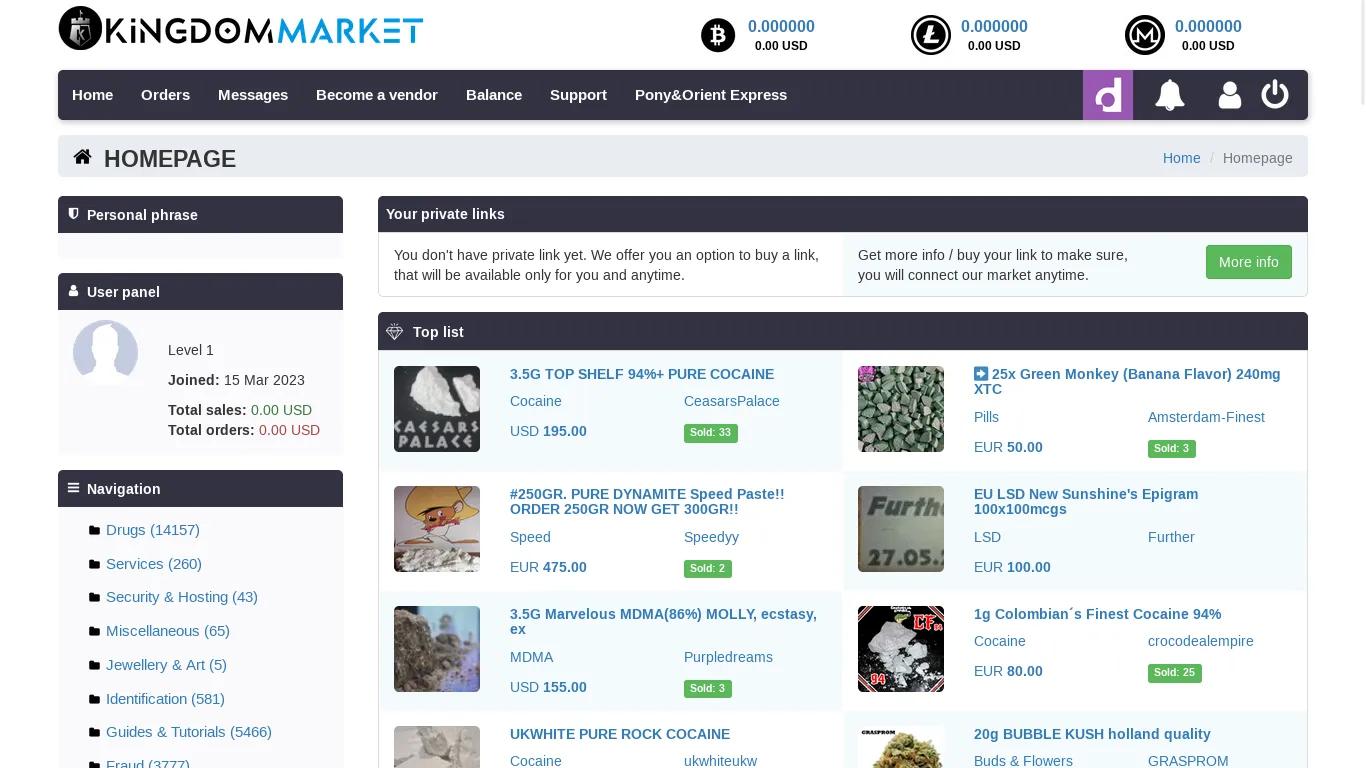 The entry captcha implemented by Kingdom Market appears excessively onerous, surpassing the difficulty level of other captchas. It may even dissuade certain visitors from accessing the site. Nevertheless, with familiarity, the captcha becomes more manageable, akin to any skill that necessitates a learning curve. The vendor application and general account creation processes are equitable and uncomplicated. Kingdom Market has made noteworthy advancements in catering to its users' requirements, indicating a promising trajectory for substantial expansion in the foreseeable future.
Payment options
Kingdom Market employs the traditional account wallet deposit system, which poses a higher risk of exit scam or phishing impostors. However, it does offer support for four distinct coins as methods of payment, namely Bitcoin (BTC), Monero (XMR), Litecoin (LTC), and Zcash (ZEC). It is noteworthy that several vendors accept all four coins, which is particularly advantageous for individuals seeking to enhance their privacy. Kingdom Market distinguishes itself from other darknet markets by featuring a unique payment/ordering system known as the "Pony & Orient Express" section. This section enables buyers to instantly order products without necessitating follow-up. This system is reminiscent of Finalize Early (FE), but it is faster and more user-friendly.
Product variety
Kingdom Market has categorized their listings into the following classifications: Drugs, Services, Security & Hosting, Jewelry, Identification, Guides & Tutorials, Fraud, Counterfeit, Software & Malware, and Carded Items. Approximately one-third of the 30,500 listings on Kingdom Market are for drugs, another one-third are for Guides & Tutorials, and the remaining listings are primarily for digital items related to fraud. The vendors on Kingdom Market appear to be evenly distributed across major English-speaking population centers worldwide, and we have observed a notable presence of prominent vendors on the platform. Additionally, several vendors are willing to ship their products globally.