Elysium Darknet Market is brand new and currently contains only 70 listings of which 50 are drug related. Elysium aims to provide users with a state of great happiness. With its resemblance to Revolution Market and AlphaBay 1.0, navigating its pages will feel familiar to many. But does this mean it offers a good all-round user experience?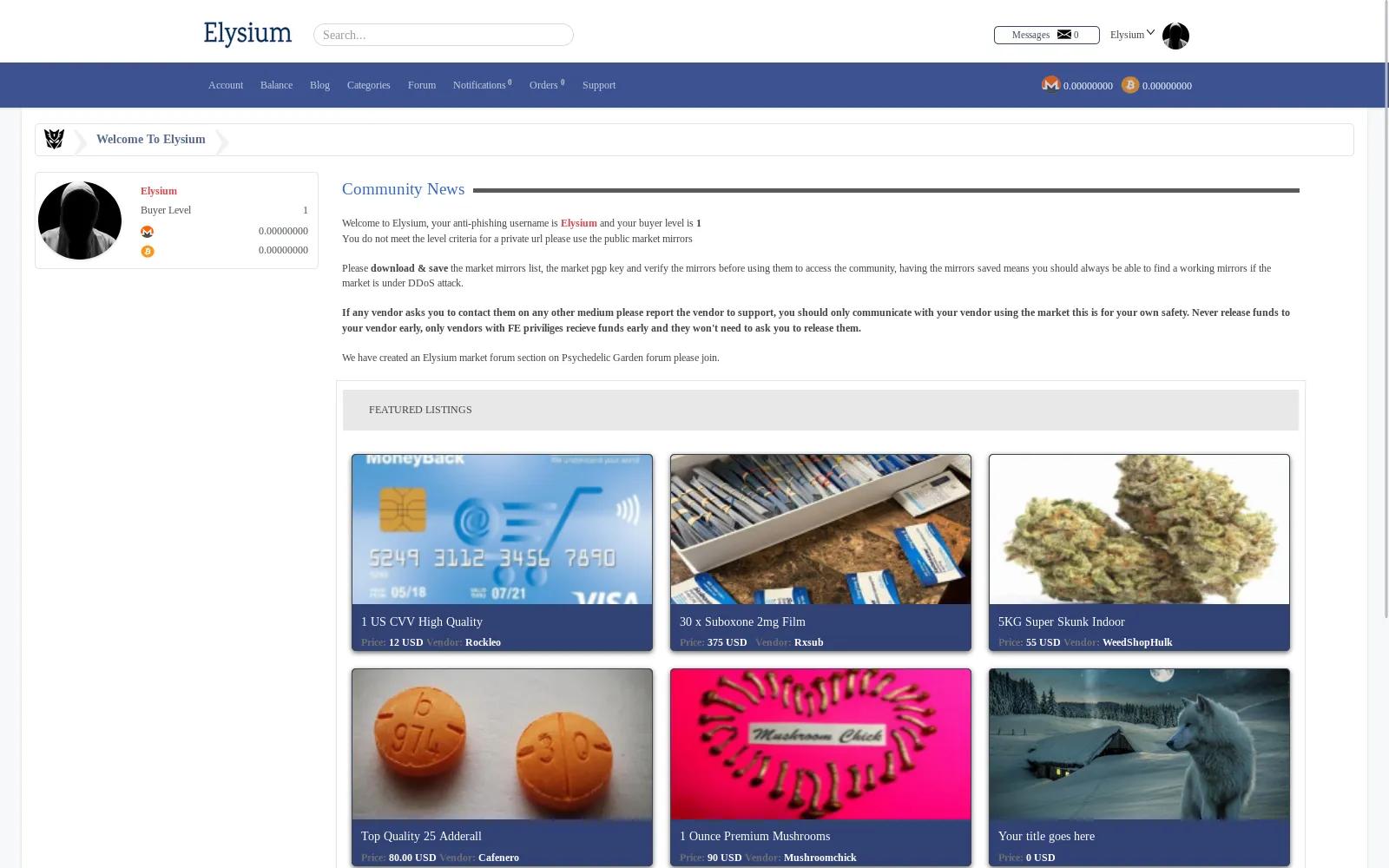 Elysium Market Rules
Elysium Market follows the standard rules observed by other darknet markets. Prohibited activities include the sale of fentanyl, weapons, hitman services, child pornography, doxxing, and more. Users are expected to treat each other respectfully and resolve any issues in a civil manner. Domestic transactions have a 6-day escrow time, while international ones have a 15-day escrow period. Digital items are finalized after 3 days. Escrow can be extended once for up to 7 days, but only when there is less than 24 hours remaining on an order. Vendors can join the platform by paying a $250 bond, but waivers are available for those with 25 or more sales on other platforms.
Searching Function
To begin your search on Elysium Market, you can enter keywords in the search bar or select from a list of product categories. The results page allows you to apply various filters, such as shopping from/to specific locations, price range, Monero support, etc. You can also search for a specific vendor. The search results are presented in a grid format, showing a product description, vendor name and level, price (in your specified local currency), shipping location, photo, supported cryptocurrencies, and star rating. Note that products without any ratings are displayed as 5 stars by default.
Product Information
Each product listing provides a photo, detailed description, shipping options, price, etc. You can add products to your favorites by clicking the blue 'Add to favorites' button, making them easily accessible on future visits. Buyer feedback is displayed at the bottom of the listing, helping you make informed decisions before making a purchase. Prices in Bitcoin and Monero are also shown alongside the local currency price. By clicking on a vendor's name (in red), you can explore their entire product range, view their feedback on the market, and see details of any disputes they've been involved in. Vendor details, including their PGP key for secure communication, are also included.
For Vendors
Elysium offers vendors two options for fees. They can either pay a 3% commission on each sale, which is lower than the industry standard of 4-5%, or opt for a monthly fee ranging from $250 to $1000. Choosing the latter option can lead to commission rates as low as 0%. While this may primarily benefit large vendors, it presents an opportunity to save on fees if Elysium experiences significant buyer traffic. This fee structure is a feature not commonly seen in other markets.
Conclusion
Elysium dark-web market provides a familiar and functional experience, surpassing the bare minimum expectations without offering anything groundbreaking. Nonetheless, most vendors and buyers will find these offerings more than sufficient. The inclusion of multisig escrow, although less appealing due to the shift towards Monero, remains a welcome feature that few modern markets support. The success of Elysium in the darknet space will depend on the number of vendors who adopt it.