Dark Bazar has been capturing the attention of vendors and buyers alike with its minimalist yet astonishingly feature-rich dark web market. In mid-2023, a major design overhaul was undertaken to improve the user experience while retaining its renowned simplicity.
Enhanced Security Measures and User-Friendly Features
Upon reaching the landing page, users are first required to pass two relatively simple anti-DDOS captchas. From there, they can either log in or create a new account. New accounts necessitate a 4-8 digit PIN for purchases and withdrawals, as well as a personal phrase to verify the authenticity of Dark Bazar. To further safeguard users, a mnemonic code is provided for account recovery in case of a forgotten password.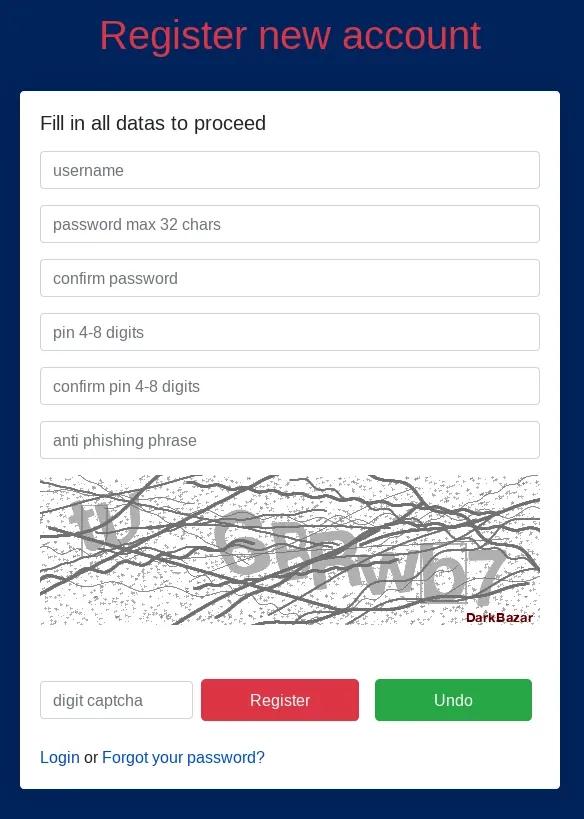 After logging in, users are greeted by a visually appealing hub page. This hub encompasses all account options, the latest market news, featured listings, and efficient search capabilities. The unique minimalist approach, showcased mainly through a red and black color scheme, sets Dark Bazar apart from other darknet markets. One might even describe it as "retro." However, it is important to explore the platform's features before making any judgments.
Strict Rules and Escrow Protection
Dark Bazar maintains strict guidelines regarding prohibited items such as arms and any form of abuse. Additionally, dealing outside the market through platforms like Telegram or Signal is strictly prohibited. The marketplace takes a proactive stance against rule-breaking and bans vendors who engage in such activities, assuring users of their protection from scams outside of Dark Bazar's escrow system.
The escrow protection mechanism ensures secure transactions for buyers. Most transactions involve a 7-day escrow period for physical goods and a 3-day escrow period for digital goods. Buyers have the option to extend the escrow period for an additional 7 days if needed. However, Finalize Early (FE) is exclusively granted to established vendors and should only be utilized when complete trust in the vendor is established.
Comprehensive Search Capabilities and Vendor Verification
Dark Bazar offers an array of search options to cater to users' preferences. Users can search by category, perform either a simple or advanced search, or even search by vendor name. The advanced search stands out, providing a more user-friendly format and offering an extensive range of filters, including item name, category, price range, and shipping location options.
Search results are thoughtfully displayed in a comprehensive list format, showcasing essential information such as product titles, vendor names, prices in USD, shipping locations, photos, stock availability, sales numbers, and feedback ratings. Users can quickly assess whether a particular listing aligns with their interests.
Product listings feature detailed descriptions, shipping options, pricing details, and the option to add products to favorites for easy future access. At the bottom of each product page, users can find valuable feedback from previous buyers, aiding in making informed purchasing decisions. By clicking on a vendor's name, users can delve into their store and assess their overall feedback, including sales figures from other prominent markets verified by Dark Bazar staff.
Seamless Crypto Swap and Autoshop Feature
Dark Bazar offers a unique crypto swap function within the market wallet, allowing users to convert Litecoin or Monero to Bitcoin instantly. While swaps between other pairs are not currently possible, this feature proves advantageous for consolidating smaller cryptocurrency amounts for convenient purchases or withdrawals, with a 5% fee for the service.

For those interested in cc's, Dark Bazar's autoshop feature provides access to a database of cards from multiple vendors. The advanced search filters, including bin and country, enable users to swiftly narrow down their search. With funds deducted directly from the market wallet, purchases can be made quickly and effortlessly.
Dark Bazar stands as an innovative darknet market, catering to the needs of both vendors and buyers. Its minimalist design, combined with an extensive range of features, secure transactions, and reliable vendor verification, establishes Dark Bazar as the go-to platform for a seamless buying experience.