The Cypher Market, a relatively small darknet market, has been in operation for over three years, yet has not garnered significant recognition from the broader community. Presently, it hosts a modest inventory of slightly over 5,000 listings, with half of them pertaining to drugs, while the remainder comprises the customary guides, software, and malware listings that are ubiquitous across other markets. Although the range of products and vendors is restricted, the market does offer sufficient vendors to cater to the primary markets worldwide, namely North America, the European Union, and Australia.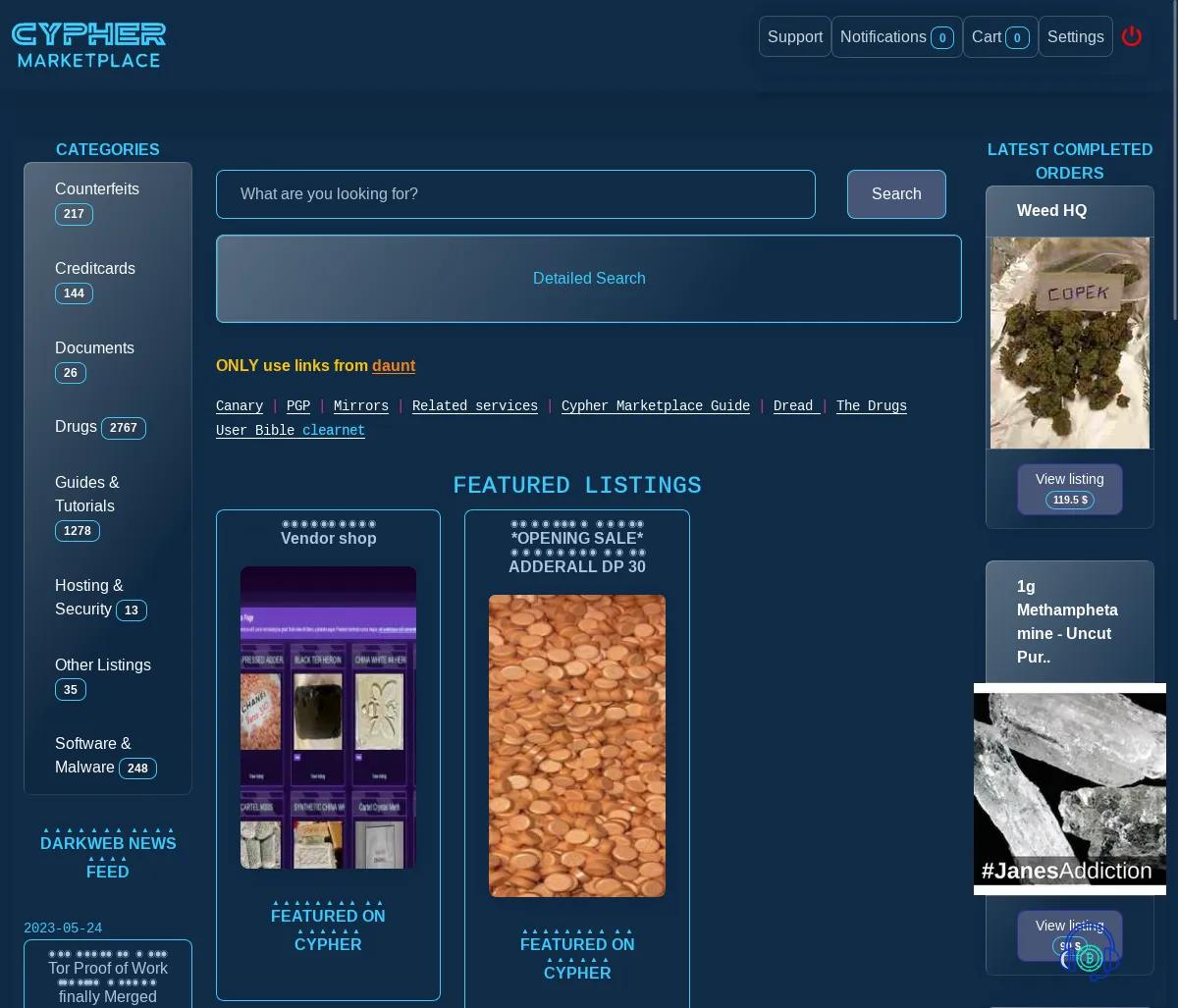 One advantageous aspect of Cypher is its notably uncomplicated registration procedure, which solely necessitates the establishment of a username and password. The captchas employed by the platform are among the most straightforward, and the loading times of its pages are among the swiftest. Additionally, a scarcely observed "Latest Orders" segment is featured in the lower left panel of the primary market screen, which exhibits the most recent purchases made by buyers on the market. Due to its relatively diminutive size, Cypher has waived the vendor bond for vendors who have conducted over 200 sales on other markets. Although the market has yet to gain as much momentum as its competitors, it exhibits no indications of deceleration.
Product availability
The listings offered by Cypher are categorized into Drugs, Hosting & Security, Counterfeit, Software & Malware, Guides & Tutorials, and Other. It is noteworthy that Drugs is the most sought-after category. The process of browsing listings on this platform is unique in that one must first enter a search term and click on the "Search" button to access the filter selection. Subsequently, users can narrow down their search by selecting product type, shipping locations, and price range.
Payment methods and handling of funds
The Cypher Market facilitates transactions in both Bitcoin (BTC) and Monero (XMR), although it should be noted that certain vendors may exclusively accept one of the two currencies. In contrast to conventional markets, Cypher does not operate an account wallet system and instead processes all payments on a per-order basis. This eliminates the need for buyers to pre-fund their wallets prior to initiating a purchase, as payment is only required at the time of order placement. The market retains the payment until the order is finalized by the buyer, at which point it is released. It is worth noting that Cypher requires buyers to rely on the market to encrypt shipping information, which may be disconcerting to some. Nevertheless, the payment system employed by Cypher is highly efficient and represents an optimal solution for buyers.
User interface
The user interface of Cypher market is arguably its least commendable aspect. Despite a recent overhaul, the interface has regrettably deteriorated rather than improved. The website is only functional on computers and other devices with large screens, and the interface lacks any responsive design elements. Furthermore, it appears highly disorganized and chaotic.